In much the same way as many others, Horace and John Dodge started by making cycles and progressing on to cars and trucks. Although the brothers died in 1920 the business continued in the family until 1925 when it transferred to a New York banking firm and then ultimately purchased by Chrysler in 1928.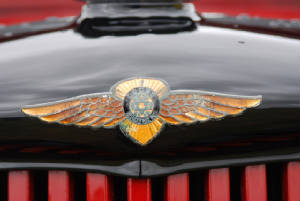 In 1922 Dodge cane to Britain and set up shop in Fulham reconstructing "Completely Knocked Down " (CKD) chassis imported from the States. They soon moved to larger premises at Park Royal. Chrysler had its own UK plant at Kew (building Plymouth cars) and it was decided to move Dodge UK operations there as well. Gradually more and more British built components were used, such as Perkins engines; and vehicles produced there became known as Kew Dodges. The Kew Dodges were well liked, and had a reputation for both strength and speed, although some could argue that the "flathead" (sidevalve) six cylinder engine was slightly primitive compared to the equivalents from Bedford or Austin. ( the 6 cylinder flathead powered an incredible range of vehicles both in the US nd elsewhere).
Following war time aircraft component production the factory returned to peace time conditions, the new range appearing in 1949. Now that more local components were used, the 100 series looked very similar to the Leyland Comet and Ford Thames ET6 of the period. Use of Motor Panels cabs in the 300 series of 1957 gave the new range a Leyland look but this took Dodge into the heavier 14 ton band for the first time, and up into the 28 ton range with the 500 series introduced in 1964 which was in production for over 10 years.
After 1965 production was moved to Dunstable and the Kew works phased out. The Commer, Dodge, Karrier models almost all being badged as Dodge by the mid seventies.
The Commando series had been introduced by Commer in 1968 and was revamped in 1974 as the Commando 2 with a range of eight models. New models were few and far between, mostly consisting of revamps of existing ranges. An electric version of the "Walk Thru" range was tried but abandoned as a commercial failure. The long-running PB series was kept going by numerous Post Office contracts through several changes.
The Dodge 50 series was based on the American Tradesman truck built by Dodge in the U.S.A. but was soon "British-ised" to meet local requirements. A five weight range was offered; 3.5 to 7.5 tons with various engines. The new model quickly saw off Fords equivalent, the A ranges and was very popular with local councils and public utilities.
Peugeot-Talbot took over the company from Chrysler in 1979.