1941 Mack FN Heavy Duty Dump Truck
I was wandering through a scrapyard in Wiltshire one Sunday afternoon when I came across a curious site - the remains of an interesting, if somewhat large, truck. Closer inspection revealed that it was American, probably a Mack, and that it was chain-driven. Before you could say "jack axle" a deal had been struck and the remains dragged home.
The Mack chassis complete with engine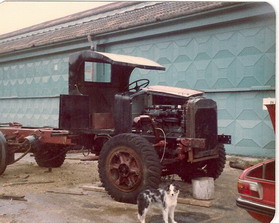 The FN Mack with engine in and Difflock the dog (yes, that was it's name!) looking on
Although it had a gearbox, propshaft and jack axle, and it was on a set of wheels, the engine was missing. Research revealed that it was an incredibly rare beasty indeed, it wasa Mack FN of 1941. Mack built a total of only 150 of these heavy duty dump chassis and only a handful (10 or so) ended up on this side of the Atlantic in a quarry near Burford. I am led to believe that one went back to the Mack museum, and this on was the only UK survivor.
I got an engine from Ted Hannon in County Durham; not the proper one sadly but a Thermodyne from either an NO or an NM (I can't remember which) and, once new mounts and a decent clutch centre had been machined, and lots and lots of other hard work I eventually got the whole thing running and driveable. I ended up selling it to a nice chap in Anglesey, so it is out there somewhere!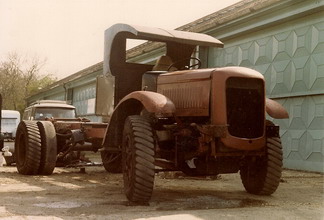 The Mack with a little tinwork in place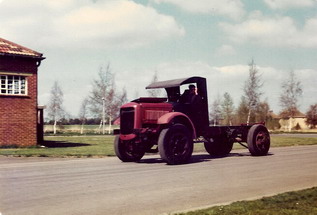 Moving under its own steam
With a steamroller to move around it was only a matter of time before the stable grew to include a suitable towing vehicle. A trip to deepest darkest Lincolnshire resulted in the purchase of a Foden S36 - tilt cab in GRP, double drive and more than man enough to tow the engine. Unfortunately (or perhaps fortunately from a spares point of view) it was fitted with a Leyland 680 PowerPlus engine rather than the original 2-stroke Foden unit, but with 18 speeds to play with there was never a dull moment. There was never a dull moment with the suspension either, as Foden used only the rear roadsprings to carry the driving load rather than any separate radius arms, and the sockets had seen better days. Eventually (and under load) one of the springs popped out of the socket meaning a short term fix and hours and hours of dismantling and re-packing the boxes with industrial grade nylon. I also fabricated and fitted a ballast box just for completeness.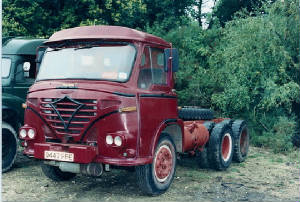 The Foden - as purchased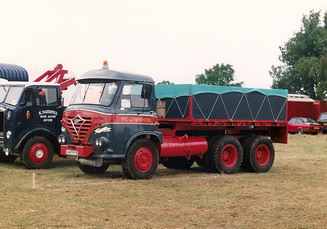 The Foden with renewed suspension and ballast box
Classic British Motorcycles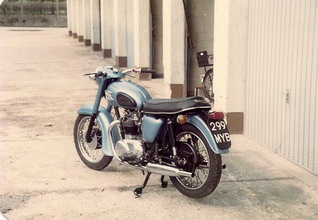 1959 Triumph 3TA "Twentyone"
In the early 1980s I lived in Germany - and rather than the big stuff I restored a couple of classic British motorcycles. The first was a Triumph 3 TA which needed engine and gearbx work plus this picture shows it having lost its original "bathtub" enclosure.
Next in line was a 1949 BSA 350cc OHV single - the B31. This one was found in the back of a garage in Wellingborough and had been converted for grass-track racing. Much needed to be found, refurbuished and replaced in order to return it to its original specification. It is a less than perfect picture, but in the background the Triumph can be seen this time with its bathtub.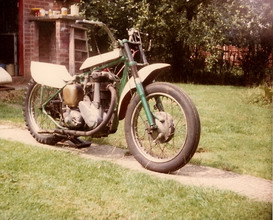 1949 BSA B31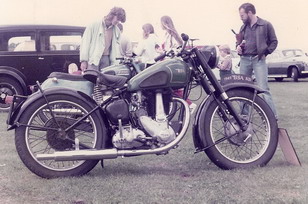 The B31 after restoration
Jeeps, 4x4 and Other Military Vehicles
Quite literally found on a rubbish dump, this collection of Jeep panels had come back from the Falkland Islands after the war in 1982 - but then thrown away. In this picture it looks much better than it actually was - the main body tub had been folded in two and was virtually rotted away. As an exercise in welding it was an excellent project, but little did I know that Jeep bodytubs were available ex. French Army. But I presevered and eventually ended up with a very useable rolling chassis and body which went to a good home (and was eventually completed). With at least a trip to the South Atlantic and back, it was certainly high mileage!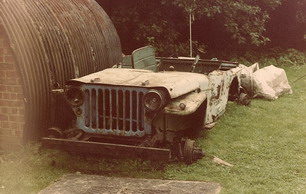 A wartime Willys jeep - in very poor condition
Body and chassis now in better shape