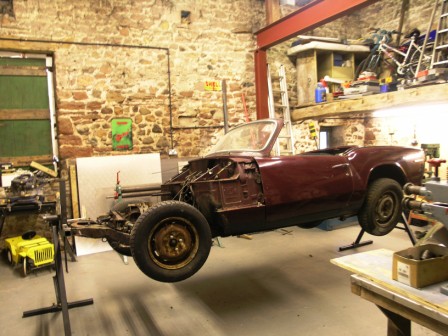 The Spitfire ready to strip down
The remit was quite straightforward; as part of a complete nut-and-bolt restoration by the owner, the bodywork needed work. A combination of corrosion, accident damage and some earlier and less than perfect repairs meant that there was virtually no area of the car bodywork that did not need attention. Happily panels, both full and part, are in good supply but even so extensive sheet meatlwork was required both to ensure that the new parts fitted snugly and that they met with each other where they were supposed to (and didn't where they were'nt!).
With new floors, sills, A and B posts, heelplates, boot floor repairs, wing and wheelarch repairs, door repairs, new sections produced on an english wheel for the bootlid, windscreen surround repairs and countless other sections measured, cut, formed and welded into place the body is now sound solid steel and has been refitted to the chassis that has been rebuilt at the same time by the owner. The car is now in the paintshop where it is getting seemingly endless coats of Triumph Damson Red, ready to go back and receive a restored engine and new trim.
The slideshow below shows just some of work needed and repairs undertaken.