The task was made tricky because not only did all of the relevant panels need to be completely remade but the whole of the front end is mounted on a subframe, the exact position and height of which was impossible to determine easily due to the fact that although a lot of work had been done on the subframe and front crossmember there were no obvious datums or mountings. In addition whilst the od panels were present, they were in poor condition particularly around the edges and where the four hinges had rusted and broken away. All in all quite a 3-dimensional puzzle.
The very rusty bonnet parts
The process from here is a case of measure, measure and then measure again. Then measure some more and keep measuring. In this case one of the trickiest dimensions was the differential in height between the top of the bulkhead and the top of the cowl, which would eventually determine the forward slope of the bonnet top. Get that wrong and the vertical shut lines would not be parallel if the panels were to the original dimensions.
So it is very much a case of carefully cutting out the blanks, fitting them up and trying not to cut anything away until it is certain that all is well dimension-wise. Did I mention the importance of measuring??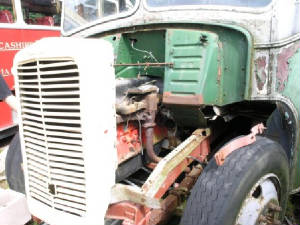 The cowl loosely fitted for measuring purposes
The main bonnet top assembly is a complex affair with a central spine which is fixed fore and aft to the cowl and bulhead respectively and then two folding wings as shown in the picture below. Four hinges enable the folding to take place.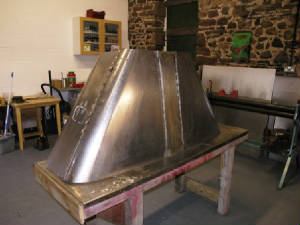 The 4 pice bonnet re-made
Of interest (and designed presumably to tax future generations of restorers) the bonnet fastening is a complex affair involving levers, bent wires and large pieces of steel. Presumably Commer fancied something different to the normal spring loaded catches and instead came up with an internal, or maybe thaqt should be infernal, solution. Inevitable time and rust had taken its toll on the mechanism, but some careful refurbishment and remaking some of the parts restored the mechanism to its former glory. And it works!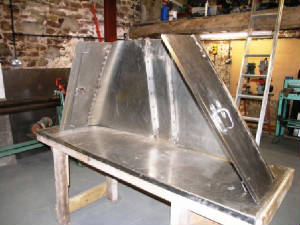 The underside of the new bonnet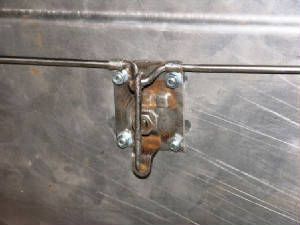 And a close up of the latch mechanism