Well here we go, the first report relating to a new pile of rust, that is to say one slightly sorry looking Mack. As I mentioned on the phone it landed the weekend before last, so the first time that I actually got to see it was late on Monday, in the rain, when it was getting dark. It was still sheeted up (it had been sheeted up to stop bits blowing off it) but there were enough sharp edges to have ensured at least some holes to peer through. My first impression was "oh my gawd" and the second was "I am going to have to get a bigger set of spanners"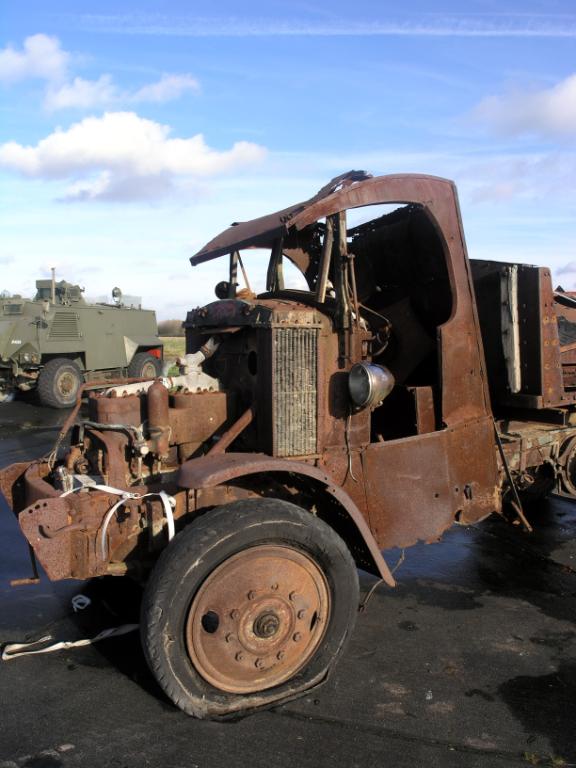 With terrible weather and a very busy programme that had me away from home for most of the week it was not until last Friday that I actually managed to find an hour of daylight to actually have a closer look. The sheet had been removed and so it was just the Mack, standing in all its glory. You don't half have to have rose-tinted specs in this game. I knew that it was a 1929 chain driven "Bulldog" Mack tipper, but by heck, you have to be the eternal optimist to have seen the potential in what was sitting on the vehicle park.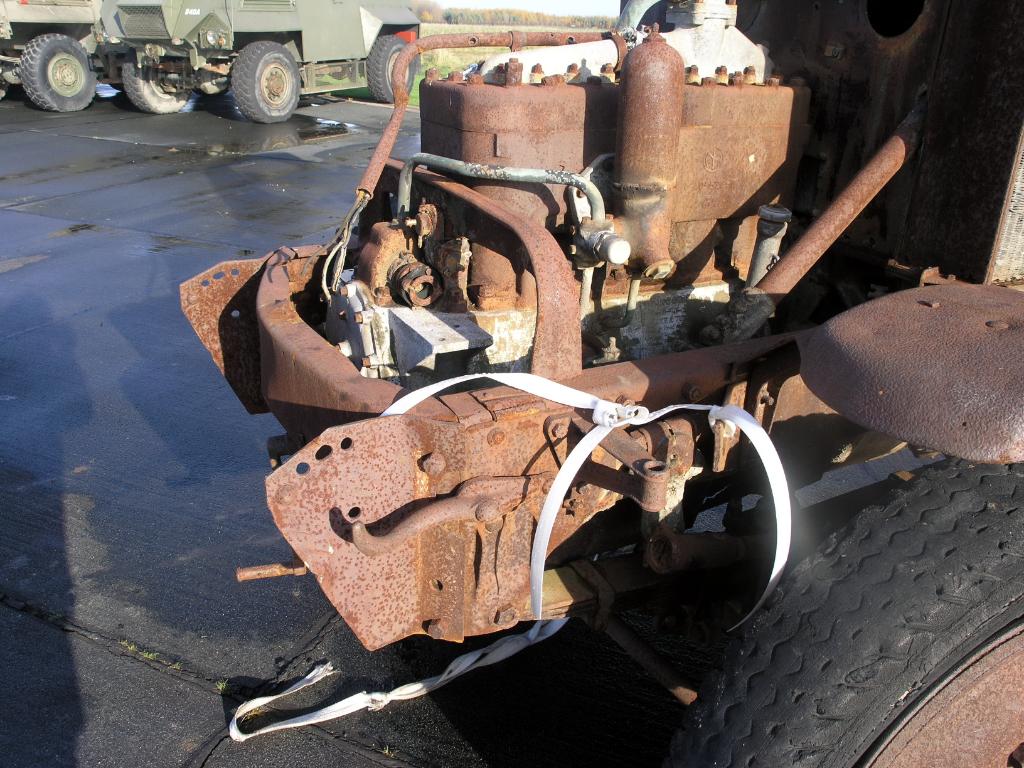 So I had a much closer look, and it is pretty much as I expected it to be, bearing in mind that it will not have had an easy life, will have stood outside since 1929 and in its later years will have probably had bits nicked off it for other things. Plus of course it had to be slightly cut up to go into the shipping container. On the up side, I was counting on it being American, and a Mack at that, and therefore made of sterner stuff than your average Morris 8 (or even, dare I say it, British truck). So it was no surprise than that some bits were even more terrible than I had expected (the cab is on its last legs and good only for a template) whilst others were much better. The chains and sprockets for instance are in very good shape, with very little wear evident, and many other areas are much better than I could have hoped for. There is a lot that is still unknown too, such as the state of the insides of the engine, or even what sort of condition it was in mechanically when it was parked up for the last time and retired from work.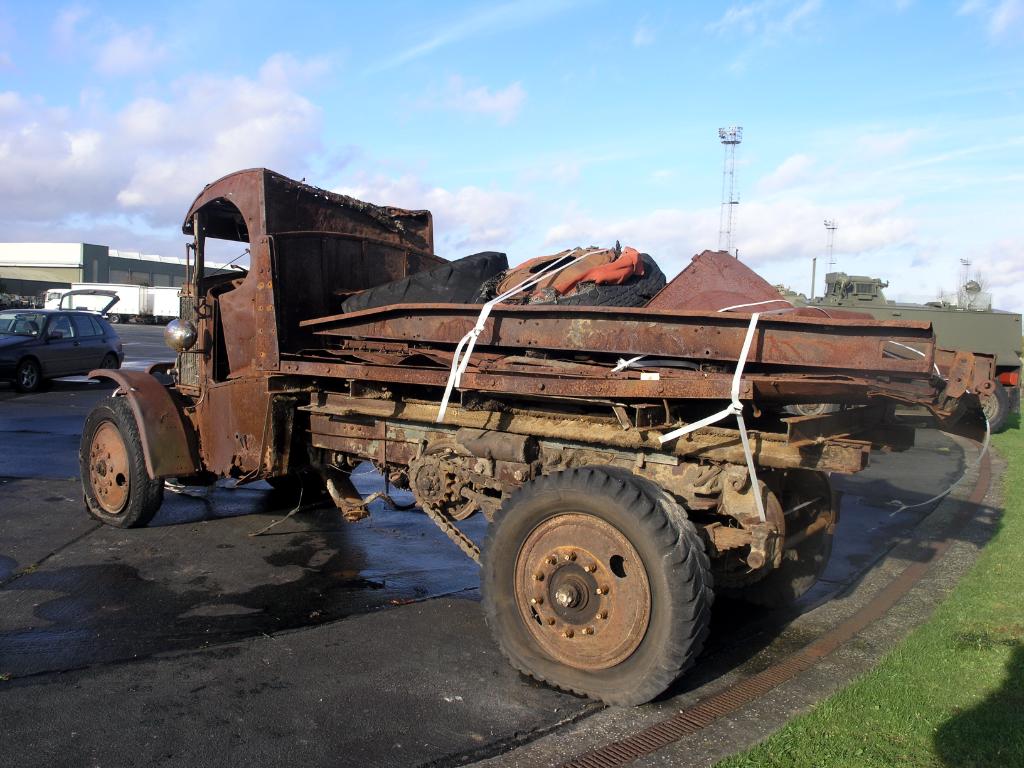 But overall I am chuffed to bits, and was even more chuffed when I started rooting around and found, in amongst all the other sundry bits and bobs, the parts for the bonnet, which I duly put into place – more or less. OK, they are beyond salvation, but they are excellent as patterns and have all the vital bits like handles, latches and hinges. Sheet metal we can get hold of, a bonnet hinge for a 1929 Mack is less straightforward. The radiator assembly looks in good shape too, even the tubes and fins. Happily most of it, like the crankcase and gearbox case and so on, are all cast aluminium. The rest is the usual combination of good and bad.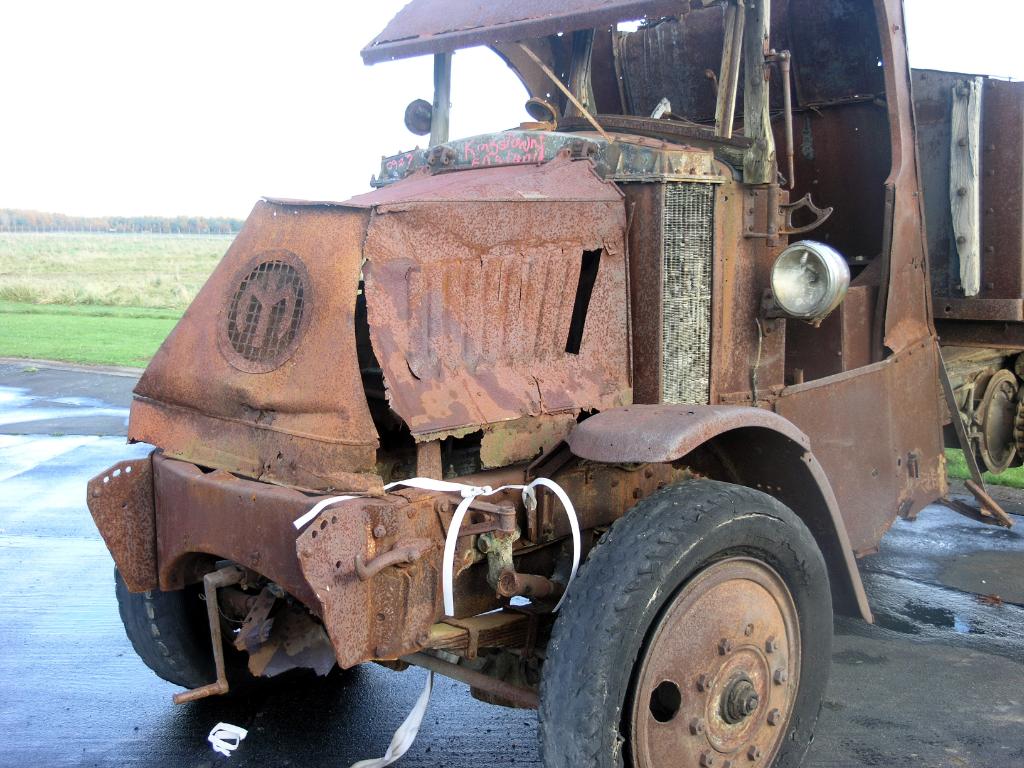 The wheels are less sound than I expected them to be, they are Budd wheels I think and could well have been a later mod. It has stood in water I think for a considerable length of time as the rims, and even the wheel discs, are in poor shape in parts. It is on 1100 x 24s, so I will have to do some searching in the USA for replacements I think. Then again, they are simple enough 10 stud wheels, so I suspect that there may be some equivalent on this side of the pond, even if they are 20inch wheels. (it is not as though it is going to adversely affect performance is it?) It has clearly had a reasonably long life, having had a vacuum brake system spliced into the rod set-up at some stage, and there are some interesting brackets on both the front cross member and the front axle (both easily removed) which could possibly have been for the fitment of a snowplough or similar. This is good – the longer working life it has had, the more likely it is that it has been maintained. That's my theory anyway!
The other big surprise, for me anyway, is that it isn't. Big I mean. I expected it to be bigger, based I think on my recollections of the FN (the previous, Shrivenham, Mack). Mind you, according to the literature that was a biggie even by US standards, and was too wide for highway use in many states. This AC is much more compact, made even more so by the fact that it is a short-chassis dump (tipper) version. My man in the States reckoned it was 20ft long, but actually with the brackets taken off the front chassis cross member it will be well under that, probably nearer 18-19 ft. Width is trickier to establish as until I get those outer rears back on, and the body back in place, but even then is not likely to be gargantuan. The height at just under 8ft is pretty good too. All very handy when asking that all-important question, will it fit my garage? (or barn in my case!).
So what happens next? Well not a lot really, as the Dodge remains the priority. I can't help thinking that the Mack will get some attention though, but for now I will have to reach for my rose-tinted specs again and imagine how it will be eventually.....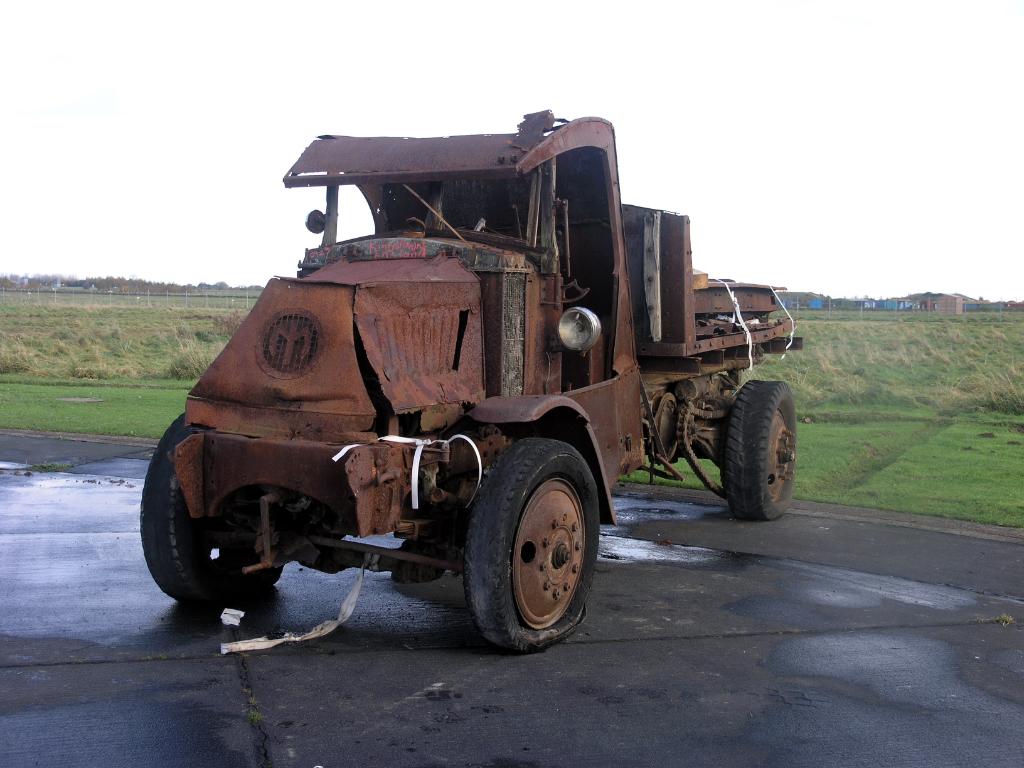 11 November 2008.